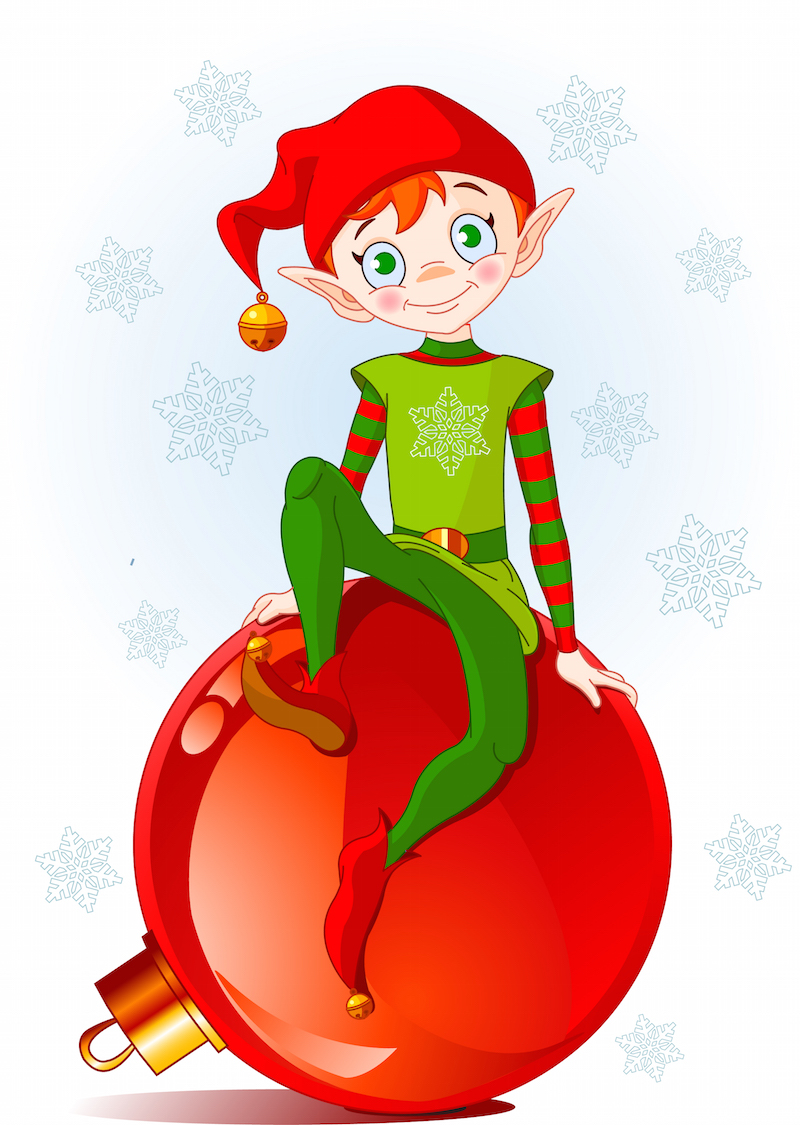 If you haven't played Elf on the Shelf during the holidays, your children are bound to love it! Equally, parents can have just as much fun with this game when it comes to hiding the elf and coming up with creative ideas to place and position him. Since this game can carry on for many days, depending on when you decide to start it, you may need a little help coming up with unique ideas. Here are some of our Elf on the Shelf spots:
1. Balloon Float
Blow up a balloon with just the right amount of helium so that if you were to tie the Elf to it, it would almost float in mid-air. Your kids will be amazed to see the Elf floating around the room.
2. Sunbath
Set up a cute little lounging mat or chair underneath one of your lamps around the house. Place the Elf under the lamp as well, along with some sunscreen and a drink umbrella, and you have a sunbathing Elf in your home!
3. Construction Worker
If you have a rambunctious little one running around your house, you probably also have a bunch of little construction toys as well; like a dump truck, excavator, or cement mixer. Scatter a bunch of mini marshmallows around, and place the Elf on top of one of the toys for a fun surprise!
4. Advent Calendar
If you buy advent calendars that are filled with a chocolate for each day leading up to Christmas, be sure to pick up an extra one this year. For this idea, use the extra calendar, open a bunch of the windows, and take the chocolate out. Scatter a few pieces of chocolate around the calendar and smear it on your Elf a little, and place him nearby.
5. Christmas Shopping
Remember when you used to have your child circle various toys and gifts from magazines and catalogs to help you find their Christmas gifts? Combine this concept with the Elf on the Shelf! Sit your Elf down with a catalog on his lap, and a sharpie marker next to it. Circle a couple of items on the open catalog too!
6. Photo-shoot
For this idea, grab a bunch of your children's favorite toys and stuffed animals. Set them up as if they were going to take a picture together. A few feet away, place a digital camera down facing these stuffed animals, with the Elf sitting behind it, ready to take the shot!
Written by Alicia Overby - Founder & President of Baby Elephant Ears
Alicia is wife, mother, and creator of Baby Elephant Ears. Baby Elephant Ears was created out of parental concern, not financial desire. In 2005, when their second child was an infant, he cried all the time and just couldn't seem to get comfortable.
After seeking advice and suggestion from the medical community and alternative medicine, they eventually ended up in the chiropractors office where their baby was successfully treated for asubluxation, discomfort most likely the result of the strain during labor, which was now being exacerbated by the normal lack of infant neck strength. Only proper neck, head, and back alignment would offer him relief. When they couldn't find a product to give their baby the necessary support, Alicia took matters into her own hands and crafted her own infant support pillow. The first Baby Elephant Ears was born!
For more information, visit www.babyelephantears.com.